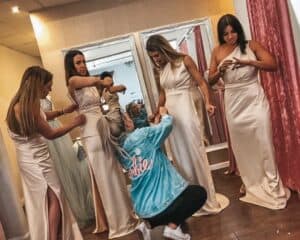 After leaving college with a Diploma In Fashion & Design Founder & CEO Jordan Wake, Found herself in full time employment as a seamstress. But she had always dreamed of owning her own fashion brand, and began making garments for herself in her spare time. And as word of mouth spread she soon quit her 9 – 5 & began to pursue her dreams full time . For Those who have been with us from the beginning will remember coming to be fit from the spare room of Jordan's nanas home before we moved to the studio in Leeds city centre
Things really took off when Jordan Partnered with a friend (formerly Wolf & Wake) & their designs got noticed by the likes of reality stars such as Katie Wright (now Ferdinand) Frankie Essex and other members of The TOWIE cast,
Having had their bespoke creations featured on the tv show multiple times also got them dressing several love Island contestants & some of the Geordie Shore cast.
These looks also got featured several times in the daily mail & online magazines.
In 2017 Jordan Rebranded her company & has continued to dress TV stars such as Lateysha Grace, Sophie Cassei, Love island finalists Katie Salmon, & an array of instagram influencers – such as Daisey O'Donnoll.
Wake has now grown into a strong team of in house seamstresses, based in Leeds city centre, Within the U.K. We pride ourselves in making made to measure bespoke garments for all females of all ages, shapes & sizes, all with individual needs we are more than happy to cater for. Our mission is to empower more women, to make them feel amazing in the skin their in, to feel empowered just by being them selves. When they put on a Wake garment we want them to feel ready to conquer the world.
We feel the fashion industry doesn't always cater for all shapes sizes and needs, often us women who aren't a standard size 10 cant find garments that fit correctly in all areas & are often left feeling like its our bodies that are the issue. This was what began Jordan's  journey into starting a bespoke service for women, who like herself didn't conform to standard sizes offered in the shops, offering a completely bespoke service creating you a garment that is flattering  & comfortable. We love nothing more than helping women to feel amazing in their own skin, we don't judge any shape or size and thrive off helping women see their own beauty And it gives us immense pleasure to see them show case it through a bespoke garment we have co designed.
This is why we offer a no obligation, confidential, consultation service, where we not only work with our client throughout the design process but we asses our clients individual needs. We take into consideration any hang ups our client may have as well as their favourite features along with styles colours & fabrics suited to their individual tastes. After taking our clients sizes, we then make the garment to measure in house. We also provide a following fitting where we make sure the garment is a perfect fit & ensure our client is happy & feeling amazing. We make it a personal experience as nothing is more important to
us than you leaving feeling beautiful, amazing and empowered by being YOU!
Whilst we have lines that cater for celebrities, where we began and continue is with you, the real women, We love to celebrate all women and use real life women in our photo shoots & fashion shows, we want to show that we do cater for everyone & everyone can feel beautiful no matter what their hang ups are. We want women to look at our models and think yes that could be me! I can feel that confident & I am that beautiful! Not, oh that looks lovely on her, but that could never be me! We are all beautiful in our own unique way and we are here to celebrate it & empower as many young girls & women as we can along the way!
And While we also cater for real everyday women, we want to cater for red carpet events having worked with a mixture of high profile celebrities offering a & pride ourselves in our confidential design service.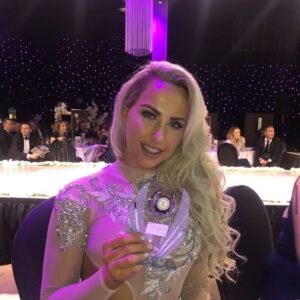 We are so grateful to say, over the last two consecutive years we have been nominated for multiple local awards & have come away each year with an award receiving best bespoke designer & entrepreneur of the year. The fact that our clients have voted for us to win these awards means everything & we are beyond grateful to dress each and everyone of you. So Thank you again, all for your kind words, recommendations &most of all friendship! Wake Wouldn't be where it is without your constant love & support.