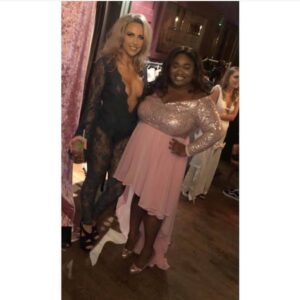 Have you ever met someone for the first time & just vibe'd? Like something about their aura just connect with yours & you know this is one of your people.
Well, that exact thing happened to me, but, just over the phone. So, A few years ago, a lady called Carron Cummings contacted me, she was an ex work college of my best friend and I'd heard nothing but good things about her & her female empowerment company 'Simply Ladies inc' . So when I received her call, I could feel the woman's vibe just through the phone, she was so energetic & full of positivity & most of all her cause really resonated with me.
What I already knew was that Carron had quiet sudden & unexpectedly lost her partner & father of her son just a few years earlier. But, what I found remarkable was that she chose to use her grief to help other women in her situation. And I could hear the passion for change as soon as spoke to her. I literally could feel her passion & commitment to helping others.
So, we met up and although we talked business we just hit it off, it was like being with an old friend. Carron told me she had contacted me because she saw I was inclusive of all women, there was no age or size limit on the garments we produced. She told me that she was very selective of who she worked with and only wanted to work with companies that resonated with hers.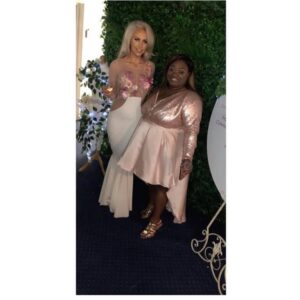 As we began working together, Carron asked me if I would like to work with her on a project. A fashion show, the concept behind the show was to empower everyday women, to celebrate them & there would be no limit on the race, ages or size of women we would invite to take part. This was perfect for us as a brand, as what people don't always realise is that we cater for all women, especially those who think 'I can't wear that' and choose to cover up rather than dress for their shape. Our mission at Wake is to help show them they can wear that garment & feel good in their own skin. This was an opportunity where we could show everyone just who are ideal clients are- the real woman & empower these women along the way.
The first show was a huge success, a sold out success, so we have continued to worked along side Carron on these real women fashion shows twice annually. One of the annual events is the Simply Ladies Awards ceremony which opens with a catwalk celebrating these real women in front of sold out venues with celebrity guests. This show is again a celebration of the people in our communities that are doing amazing things & might not always get the recognition that they deserve. It really is such a beautiful night of celebration, recognition & most of all empowerment for all who attend. The emotions in the room are electric. So much laugher & tears, it's safe to say its an emotional night! And an event I look forward to every year!
We are beyond grateful to say we have come away with an award each year, as voted by the local community which means the absolute world to us but not only than that the feedback we get from the real women models leaves us glowing, to see teens & women feeling beautiful & empowered in their on skin is why we do what we do.
As I've previously mentioned Simply Ladies is a Female Empowerment Support network, a place for all ladies, of all races, shapes, sizes & ages. And I'm honoured to work along side them. Carron & her company have supported me in a range of ways over the years and I like to call her my watering can! She has encouraged me to see the value in myself & what I bring to others – and now together we help to water others! And I am blessed to say she is now one of my closest friends, so here is a little from Carron Herself!
Oh & please don't forget to look her up! @Simplyladiesinc & @carriberry0786 on Instagram & Simply Ladies inc on Facebook.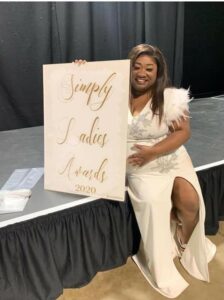 Your vibe attracts your tribe.
Fashion is something that I've always loved. It's a way of expression. But what happens when your body changes, what happens when you give birth and the shops that was once available to you don't have your size anymore.
Simply Ladies is a place where women can feel empowered. Over the years I've helped and supported Jordan by encouraging her to believe in herself, working on ways of growth and believing in her abilities to be the best. When scrolling through Instagram like you do. I saw how inclusive Wake was to All women. I want all of my members to feel empowered I had to meet the woman behind the brand.
It's refreshing to speak to another entrepreneur, because when you have a dream and an idea, your often on your own with building it to where you want it to be. Having someone you can bounce off ideas to is so good!
Having Jordan apart of Simply Ladies we've been able to relate on so many situations which has helped us become the best of friends.
Not to mention that her ethos matches mine, one of true woman empowerment. Jordan makes sure that each woman that she dresses feels good in what she's wearing. She makes it her mission to listen to what each of her clients want that's why I knew that she'd be the right person to collaborate with on the real women's fashion show.
She makes every woman feel comfortable, helping them to understand their bodies even if they at first they feel uncomfortable, Jordan put them at ease.
We've worked on so many projects together, From Fashion shows, Empowering  photoshoots & Amazing events.
This is why we work together and I'm just beyond grateful. It's important to build each other up, it's great to see growth in friendships as that's they way that it's supposed to be right?!
Love you Jordan 🖤🤍