From designing tailor-made sparkly ball gowns for award ceremonies to designing collections of loungewear at home, we know our beautiful customers like to keep active too so we have launched an activewear collection.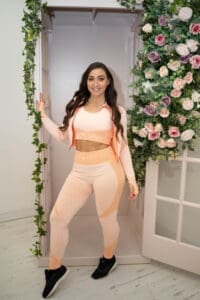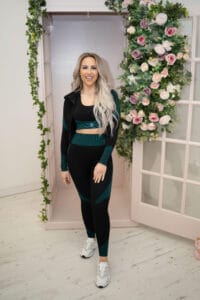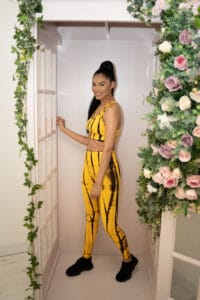 We're about dressing every woman of any shape, size and activity level… and there's nothing more we love than working out in feel-good activewear made for women.
Not only are more of us working out from home than ever before, or vowing to get fit, but it is proven that good workout clothing can help performance. Not to mention your motivation levels when you can work, move and go out in our special collection.
69 percent of people claim that having nice workout clothing that they enjoy putting on helps push them to exercise.
We want you to feel empowered, strong and comfortable (whilst looking fabulous and bossing your own personality) and that can come with wearing the right clothes to suit you because you are unique…
And as my personal trainer Sophie Mei Lan of Squats and Sparkles (https://squatsandsparkles.co.uk) says: "Everybody is a perfect body."
Mind and Body Transformation coach Sophie, who always wears Wake Bespoke, shares her top workout tips to get you motivated:
Top Tips:
– Lay out your new activewear the night before (or when you go to bed) and as soon as you wake up, put it on so you're more motivated to exercise as soon as you wake up.
– Try moving within an hour of waking whether it be stretching an online class, following a programme or youtube video.
– Anything is better than nothing. So, once you're dressed in Wake Bespoke Activewear you can keep moving more throughout the day from star jumps whilst waiting for the kettle to boil to a jog to the shops.
We want you to look good, move more and feel good so we are also collaborating with Squats and Sparkles to offer weekly workouts to get you active at home every Monday and Tuesday.
CEO of Wake Bespoke Jordan Wake says:
As a business owner juggling a female empowerment empire, family commitments, health and fitness… it can be hard to find time or motivation to workout.
But I know how good I feel when I look good and wear well-fitting clothing to show off my curves. With this new bright and stylish range, I wanted to curate a collection that I would wear and that all women can feel amazing in.
It's so stylish that I will wear it when working out at home, at the gym and even when I am working.
We don't sweat, we sparkle!
Pump up the vibe to transform your confidence by committing to yourself through self-care such as a good morning routine, feel-good clothing and moving more!
We've got you sister!
Wake Up Beauty it's time to Beast with Wake Bespoke…